China Ningbo Omen Industrial Co., Ltd. was established on 1996, We are a professional Manufacturer of Plastic Valves & Fittings Products, PPR ball valve, PPR ball valves, Thermal insulations, Seals, ELECTRIAL SULATION material, Plastic, Aluminum and Glass packaging. As a mutual group enterprise, our company owned 10 different productiondepartments, 120 professional technicians and 1500 employees at present. We can, therefore, guarantee to provide our customers with competitiveprices, prompt delivery and different products. Most of our products, PPR ball valve, PPR ball valves are widely distributed to more than 70 countries &. Areas.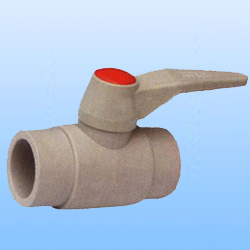 AC9132 PPR Two Pieces PPR Ball Valve
Description: 1.Size:1/2"-4"(15-100mm).
2. Working pressure: 0-150 psi.
3. Working temperature: 0-160 oC .
4. Testing pressure: body: 25 bar, seat: 20 bar.