China Ningbo Omen Industrial Co., Ltd. was established on 1996, We are a professional Manufacturer of Plastic Valves & Fittings Products, non asbestos sheet, asbestos joint non sheet, Thermal insulations, Seals, ELECTRIAL SULATION material, Plastic, Aluminum and Glass packaging. As a mutual group enterprise, our company owned 10 different productiondepartments, 120 professional technicians and 1500 employees at present. We can, therefore, guarantee to provide our customers with competitiveprices, prompt delivery and different products. Most of our products, non asbestos sheet, asbestos joint non sheet are widely distributed to more than 70 countries &. Areas.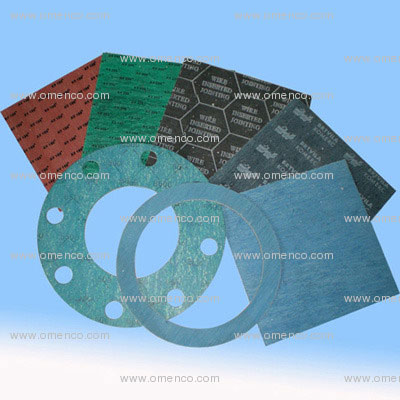 CSF Non asbestos compressed sheet
| | | |
| --- | --- | --- |
| | Non asbestos joint sheet is made from Kevlar(Aramid)fiber,Vegetable fider, Mineral fiber with NBR rubber,synthetic rubber,oil-resistant rubber,acid-resistant rubber Compressed and calendered under high temperature and pressure into a sheet form. It replace asbestos joint sheet essentially and thoroughly. Used in steam, water, air & various oil, alkaline,acid and chemicals. | |
Item

WXB250

WXB350

WXB450

Tensilestrength

≥6 Mpa

≥ 12 Mpa

≥19 Mpa

Aging coefficient

≥0.9

≥ 0.9

≥0.9

Loss on ignition

≤ 30%

≤ 30%

≤28%

compressibility

12+-5%

12+-5%

12+-5%

rebound degree

≥ 35%

≥40%

≥45%

Density

1.95g/cm3

Stress relaxation

≤ 50%

≤50%

≤ 50%

Working temperature

Less than 250oC

Less than 350oC

Less than 450oC

Working Pressure

1.5Mpa

4Mpa

6.0Mpa

Flexibility

No break

Thickness: 0.4mm-6.5mm

Size: 1500mmx1000mm, 1500x1350mm, 1500x2000mm,1500x4000mm
Others types can supply:
1. Non asbestos acid-resistant sheet
2. Non asbestos oil-resistant sheet
Package: by exporting wooden case, 1000kgs/case.