China Ningbo Omen Industrial Co., Ltd. was established on 1996, We are a professional Manufacturer of Plastic Valves & Fittings Products, nylon rod, nylon rods, Thermal insulations, Seals, ELECTRIAL SULATION material, Plastic, Aluminum and Glass packaging. As a mutual group enterprise, our company owned 10 different productiondepartments, 120 professional technicians and 1500 employees at present. We can, therefore, guarantee to provide our customers with competitiveprices, prompt delivery and different products. Most of our products, nylon rod, nylon rods are widely distributed to more than 70 countries &. Areas.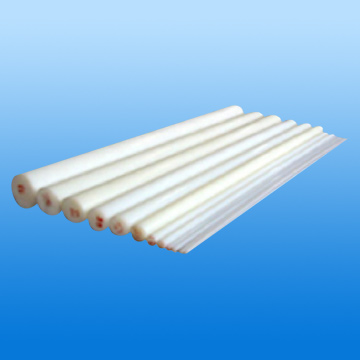 P006 Nylon_Rods
Nylon bar is one of most widely used and known engineering plastic, Made from PA6 or PA 66
Nylon Rod is very abrasive resistant and has a low co-efficient of friction
It's resistance to corrosion, oil and chemical resistance too.
Nylon bar (PA6) technical data sheet:
| | | |
| --- | --- | --- |
| Item | Unit | Value |
| Frictional Coefficient | | ≤0.45 |
| Abrasion Wear | Mg | ≤4.5 |
| Compressive Strength | Mpa | 127 |
| Rock well Hardness | R Scale | 112 |
| Tensile Strength | Mpa | 79 |
| Flexural Strength | Mpa | 130-150 |
| Notched Impact Strength | KG/M | ≥14 |
| H.D.T(0.46Mpa) | °C | 120 |
| Density | g/cm3 | 1.15-1.16 |
| Elongation ratio | % | 60 |
| Shear Strength | Mpa | 80-95 |
| Bending elastic modulus | Gpa | 26.4-31 |
| Sparking Voltage | KV/mm | 18.6 |
| Moisture | % | ≤0.6 |
Size range:
Length: 300mm, 1000mm, 2000mm, 3000mm
Dia.: 6mm-400mm
Package: wood case
MOQ: 100kgs